New week, new comics! Here are some highlights of the latest comics, graphic novels, manga, and more to check out in your visit to your local comic shop!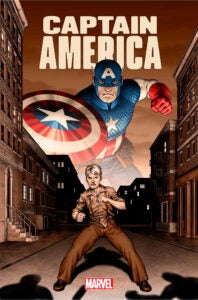 Acclaimed writer J. Michael Straczynski, who you may know from his fan-favorite runs on Thor and Spider-Man makes his return to Marvel in this new Captain America ongoing series! This will be focused on Cap tackling a new threat with ties to his past.

A time traveler from the post apocalyptic future of 2112 goes back in time to kill Christopher Columbus and hopefully stop the end of the world. If you've been looking for your next sci-fi thriller fix, you've got to check this one out!

This one-shot spin-off of the hugely popular MMO Final Fantasy XIV takes characters from the game and puts them in a high school comedy. If you're a fan of the game and want to see your favorite characters like you've never seen them before, this is the book for you!

Who doesn't love a good crossover? Writer of the current Wolverine series, Ben Percy, brings us the clash of two of the deadliest hunters in fiction! This series will chronicle the many battles Wolverine has had with the Predator across his history. Perfect for any fan of either character!

This mini series takes place in the world of CD Projekt Red's Witcher games. Geralt meets a mysterious clan of warriors that coexist with animals. If you're looking for a new adventure featuring your favorite monster hunter, pick this one up!