It's that time of the week to hit up your comic shop for the latest comics, graphic novels, manga, and more! Here are some of my personal highlights this week:
GHOST RIDER/WOLVERINE: WEAPONS OF VENGEANCE ALPHA 1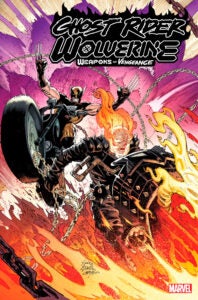 This is Part 1 of a 4-issue crossover between Benjamin Percy's Ghost Rider and Wolverine runs, with art from Geoff Shaw (Thanos Wins, Guardians of the Galaxy). This issue will reveal Wolverine and Johnny Blaze's first encounter in the past, while in the present they deal with a demonic serial killer who's murdering innocent mutants.
The following issues in the crossover are GHOST RIDER 17, WOLVERINE 36, and GHOST RIDER/WOLVERINE: WEAPONS OF VENGEANCE OMEGA.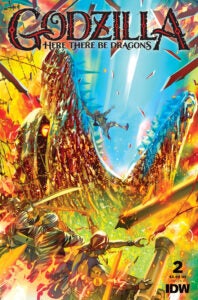 Godzilla: Here There Be Dragons #2
Issue #2 of a 5-issue miniseries set in the 1500's, before humanity had successfully traveled the entire globe. Back then it was believed that monsters ruled the oceans just beyond the horizon. "Here there be dragons…" was written on maps to denote the areas people dared not go.
I love seeing iconic characters in completely different time periods! Like with MARVEL 1602, Batman: Gotham by Gaslight, and the Prey movie.
Batman: Wayne Family Adventures Volume One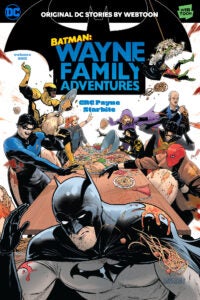 THIS SERIES IS SO WHOLESOME, I LOVE IT!!! It's a funny, slice-of-life take on the Bat-Family. If you haven't read the Webtoon or if you have and want to own the print edition, pick this up now!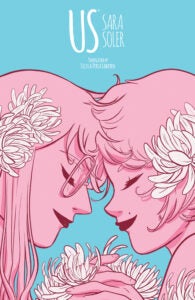 Us
Us is an LGBTQ+ graphic memoir on love and identity, originally in Spanish. It began as a self-published fanzine, and received a number of prizes throughout 2019 and 2020. It was published as a full-length graphic novel for the first time through Astiberri (2021). It's now available for the first time in English through Dark Horse!
Definitely recommend for fans of My Lesbian Experience with Loneliness, Gender Queer, Laura Dean Keeps Breaking Up with Me, Bloom, and Our Dreams at Dusk.
This 20th anniversary edition is a beautifully designed hardcover that also includes a new introduction by the author Marjane Satrapi. Persepolis is a classroom staple, a feminist manifesto, and one of the most beloved graphic novels of all time. Highly recommend for those interested in understanding the history and politics that inform current events in Iran today, particularly women's rights and Iranian theocracy.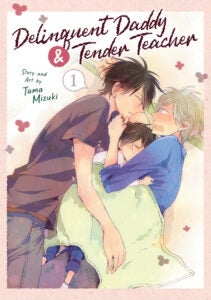 Delinquent Daddy and Tender Teacher Vol. 1
This Boys' Love/BL manga is perfect for fans of "opposites attract" pairings, found family stories, and romances in which a supportive single parent finds love.
Highly recommend if you enjoyed any of Our Dining Table, Life of Melody, The Two Lions, Restart After Coming Back Home, Manly Appetites, and What Did You Eat Yesterday?
Skeleanor the Decomposer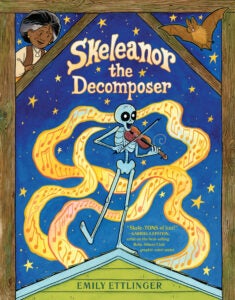 Age 6-9 years
Perfect for music and Halloween lovers! It's about a music-obsessed skeleton who just wants to show her skills, but she always seems to scare the people of Little Casketon away. This GN even has a music glossary in the backmatter!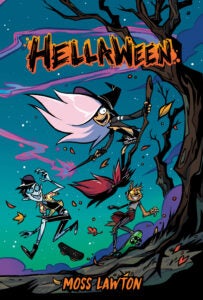 Hellaween (also available in Hardcover)
Age 10-14 years
Hellaween is about a witch and her two best friends trying to have a fun Halloween while dealing with a local kid (and his reluctant sidekick) who are trying to hunt the supernatural. This GN has everything that makes Halloween so adored: magic, monsters, and tons of fun!
You can always scroll through our website homepage for a full list of the week's new releases. Have an awesome NCBD!