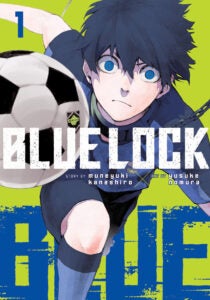 Blue Lock is a manga by writer Muneyuki Kaneshiro with art by Yusuke Nomura which started in 2018. The story is part sports manga, part Squid game-like battle royal. After consistently losing the world cup, Japan's national Soccer team hires a new coach. This coach gathers the 300 best strikers in Japan, traps them in a facility called Blue Lock, and has them participate in an increasingly intense set of Soccer related elimination games to determine which five can be on the world cup team.
If you're already a fan of sports manga, Blue Lock is definitely going to be up your alley but even if you're not a fan of or have never read sports manga, Blue Lock is an excellent introduction to it. It's extremely driven characters, elimination game-style format, and edge of your seat soccer scenes that are just as action packed and suspenseful as any battle-shonen will get you hooked and leave you constantly wanting more.
It got a hugely popular anime series in 2022 (trailer below) that is currently streaming it's first season on crunchyroll, with an upcoming second season and movie, Blue Lock: Episode Nagi, both to be released sometime in 2024.
The first season covers the first 11 volumes of the manga, so if you want to get ahead of the story before season two check out Blue Lock: Volume 12 which releases Apr 30, 2024. Check out the whole series HERE!