The Rocketeer is Cliff Secord, a down on his luck stunt pilot in 1938 who finds a stolen experimental jetpack and becomes The Rocketeer, battling nazi spies, criminal gangs, and more! The character takes inspiration from pulp and film serial heroes like Commander Cody and The Shadow.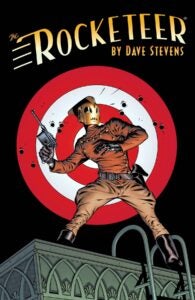 He was created by the late writer/artist Dave Stevens in 1982 as a back up story in Mike Grell's Starslayer. From this back-up, Stevens would go on to continue the Rockeer's adventures in the antology Pacific Presents, the one-shot The Rocketeer Special Edition, and eventually would conclude his story in the self titled 3-issue mini series The Rocketeer Adventure Magazine in 1988.  Dave Stevens' entire run on the character is collected in The Rocketeer: The Complete Adventures.
Since the initial Rocketeer stories, the character has lived on in mini-series and anthologies by a variety of talented writers and artist. This started with the anthology Rocketeer Adventures. First released in 2011, this series featured stories from industry veterans like Mike Allred, Stan Sakai, Darwyn Cooke, Bill Sienkiewicz, Kyle Baker, and more. All of the issues in this series are collected in The Rocketeer: High Flying Adventures. Following this, The Rocketeer would star in other mini-series and one-shots like Rocketeer: The Cargo of Doom (by Mark Waid and Chris Samnee), The Rocketeer: The Great Race (by Stephen Mooney), the one-shot collection of short stories The Rocketeer, and most recently The Rocketeer: In the Den of Thieves (by Stephen Mooney and David Messina) which just had its first issue released this month on July 12.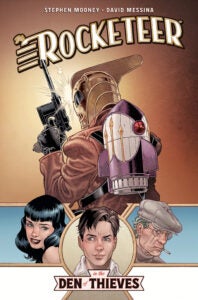 The Rocketeer has been even been adapted into other media outside of comics, In 1991 Disney released a film adaptation of The Rocketeer directed by Joe Johnston and starring Billy Campbell as the title character. In 2014 IDW released a collection of short prose stories harkening back to the characters' pulp inspirations titled Rocketeer: Jet-Pack Adventures. Later in 2019 Disney would return to the character in the form of The Rocketeer Disney Junior cartoon.
Unfortunately Rocketeer creator Dave Stevens passed away in 2008, but his creation and legacy continues to in inspire readers and other creators to this day.