If you're looking to relax and unwind with a good manga then add Mr. Villain's Day Off to your pull list! It's about a villain who wants nothing more than to spend his days off—his one break from evildoing—in peace and surrounded by pandas! It's a charming and slow-paced comedy manga that'll soothe your soul.
Volume 1 releases August 15th. FOC for retailers is this coming Monday July 17th so be sure to pre-order at your comic shop!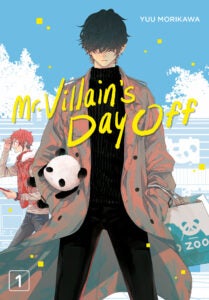 One evil supervillain spends most of his time hatching nefarious plots to take over the world—but on his days off, nothing gets between him and the cute pandas he adores! This fresh, charming comedy series answers the age-old question of what a villain does off the clock!

The mysterious and dastardly man known only as the General within the evil organization plotting to take over the world is one of the top targets of Earth's defensive unit, the Rangers. But on his precious days off, he's more likely to be at the local zoo staring at his beloved pandas or trying out new ice cream flavors! Will his secret hobbies be jeopardized forever when his natural enemy—a Ranger hero out to save the Earth—catches him in the act?
An anime adaptation has also been announced, release date TBA: