Anime Expo 2023 wrapped up Tuesday (7/4) and hit fans with A TON of anime & manga news! Here's a round-up of all the announcements related to our PRHPS client publishers:
Suicide Squad Isekai Anime Announced
Suicide Squad rampages into Japanese anime in SUICIDE SQUAD ISEKAI, an all-new original anime series collaboration with Warner Bros. Japan and WIT Studio! Check out the announcement trailer below showing Harley Quinn, Joker, and Amanda Waller.
WIT Studio's previous anime projects include the first three seasons of Attack on Titan, the first seasons of Vinland Saga and The Ancient Magus' Bride, and series like After the Rain, Great Pretender, and Vivy: Fluorite Eye's Song.
Crunchyroll Announcements
Crunchyroll announced that they picked up the license to stream the anime series The Apothecary Diaries premiering in 2023, The Kingdoms of Ruin premiering October 2023, and I Was Reincarnated as the 7th Prince premiering April 2024.
Kodansha USA Announcements
Kodansha USA revealed the newest slate of print manga licenses arriving in spring 2024, including all-new print titles, new omnibus editions, new-to-print titles & more!
Initial D Omnibus
By Shuichi Shigeno

An all-new, large-sized, 2-in-1 print edition of the series that made Japanese street racing into a worldwide phenomenon.

Remember me? Relive Takumi Fujiwara's journey from tofu delivery boy to street-racing legend in a large-sized, 2-in-1 print edition of the series that made Japanese street racing into a worldwide phenomenon. This edition is still running in the '90s but features a new translation and lettering for the 2020s!

Rated: Older Teen 16+

A Sign of Affection Omnibus
By suu Morishita

Yuki, who's always been deaf, is used to communicating with sign language and her phone. But she's not used to English, so when a tourist from overseas asks for directions, she nearly panics…until a handsome stranger steps in to help. His name is Itsuomi, and it turns out he's a friend of a friend. A charismatic globetrotter, Itsuomi speaks three languages, but he's never had a deaf friend. The two feel drawn to each other and plan a date on a romantic winter's night…but Yuki's friend is afraid that she might be setting herself up to get hurt. Could this be something real? Or will these feelings melt away with the snow?

The best-selling romance that pairs a globetrotting guy and a sweet, curious woman who can't hear, in a new, 3-in-1 omnibus edition!

Rated: Older Teen 16+

FAIRY TAIL Omnibus
By Hiro Mashima

Experience the magical adventures of Natsu, Lucy, Erza, Gray, and all the wizards of the FAIRY TAIL world in a new three-in-one omnibus format!

The best way to collect the manga that inspired the long-running anime, including the new sequel series Fairy Tail: 100 Years Quest.

Rated: Teen 13+

Turns Out My Online Friend is My Real-Life Boss!
By Nmura

Hashimoto spends all day at his job redoing work for his boss, who's never happy! His only refuge is an online game, where his buddy "Uma" gives him a sympathetic ear. What he doesn't realize is…his demon boss and Uma are one and the same!

A nerdy workplace BL dramedy manga perfect for fans of Cherry Magic! and Yagi the Bookshop Goat. Extra-long, 2-in-1 edition.

Rated: Older Teen 16+

Anyway, I'm Falling in Love With You.
By Haruka Mitsui

An irresistible shojo manga offering an all-you-can-eat buffet of high school drama, adolescent crushes, and childhood nostalgia.

Brand-new manga from the author of I Fell in Love After School!

Mizuha's seventeenth birthday is the pits. Her parents totally forgot, and the senpai she likes isn't interested in her. But when her longtime childhood friend asks her out, Mizuha has to sort out what this change could mean…and all in the middle of a global pandemic!

Rated: Teen 13+

Don't Toy With Me, Miss Nagatoro Box Set 3
By Nanashi

Don't Toy With Me, Miss Nagatoro 3rd box!

Includes volumes 13~18 of the manga, box with new artwork, plus a bonus item!

Rated: Teen 13+

Medalist
By TSURUMAIKADA

"A story about learning to believe in yourself even when everyone else tells you you're not good enough." — Anime News Network

The ice rink is the only place Inori can be herself—but everyone in her life insists she give up skating. Until she meets Tsukasa, a frustrated coach who will join Inori to form an unstoppable duo powered by hard work, transcendent joy, and an unshakeable belief that they can prove everyone wrong.

Winner Next Coming Manga Award 2022 and soon-to-be anime!

Rated: Teen 13+

My Noisy Roommate: The Roof Over My Head Comes With Monsters and a Hottie
By Tsukiji Nao

Osuke's excited about finally getting to live on his own, but on his first day in his new apartment, he finds himself kicked out onto the street! So, when a real estate agent appears out of nowhere offering him a beautiful, new place (with just a couple conditions), he jumps at the chance. But when he opens the door, a drop-dead gorgeous blond guy pops out! It turns out living with him is one of the conditions! His name is Nanami, and he tells Osuke that, not only are ghosts real, but Osuke himself is a magnet for all things supernatural…

Rated: Older Teen 16+

Kei X Yaku: Bound by Law
By Yoshie Kaoruhara

The manga that inspired the hit live-action drama starring Nobuyuki Suzuki and Atsuhiro Inukai!

Opposite sides of the law flirt with danger—and each other—in a tangled web of political intrigue that is fraught with deception and secrets. A suspenseful mystery sure to get the heart racing in more ways than one, perfect for fans of Banana Fish.

Rated: Older Teen 16+

Kaina of the Great Snow Sea
Story by Tsutomu Nihei, Art by Itoe Takemoto

Kaina is the only youth in the last remaining village that clings to life on the Canopy, high above the surface of the world. When Liliha, a princess from the surface, makes her way to the Canopy, they both realize that there is more to their world than they knew. Kaina agrees to help Liliha return to the Great Snow Sea far below, where her kingdom is imperiled by the rapacious neighboring kingdom of Bargia.

The trip is arduous, and foes lie in wait at the end of their descent. With Liliha taken prisoner and her father the king too caught up in politics to rescue her, Kaina has no choice but to set off with only the young prince in tow, braving the dangers of the Great Snow Sea to rescue Liliha from Bargia's clutches…

Rated: Older Teen 16+

Nude Model: Tsubasa Yamaguchi Short Stories
By Tsubasa Yamaguchi

Three erotic short stories from the creator of Blue Period.

Nude Model, in which a high school delinquent tries to seduce an introverted artist in his class, only for her to turn the tables on him. Girl, in which a teenage boy becomes in-demand for his recordings of erotic moaning, and uncovers a sexual predator on the school's staff in the process. And Kamiya, in which a young doctor who can't stand the sight of blood overcomes her fears by going to a host club staffed by vampires, only to get caught up in a serial killer's web.

Rated: 18+

I Got Reincarnated in a (BL) World of Big (Man) Boobs
By Tsukiji Nao

"I just…wanted to…touch boobies…"

Nagare loves boobs. And he gets his wish to be reincarnated in a world of boobs…except these are man boobs. A zany BL isekai comedy full of titillation and satirical jabs at manga cliches of all kinds! An extra-long, 2-in-1 edition.

Rated: Older Teen 16+ (obviously)

I Can't Say No to the Lonely Girl
By Kashikaze

In this juicy yuri manga, the goody-goody high school girl Sakurai meets a lonely girl—and ends up entangled in a web of blackmail that might just lead to romance. It's hard to keep up with school when you can never say no to a devious classmate!

Rated: Older Teen 16+

A Brief Moment of Ichika
By Natsu Tadano

At the age of 16, Ichika Sendawara learned that she only had two years left to live. Now a sophomore college student, she lives a busy, upbeat life, despite never knowing when the end will come.

Everything changes when Ichika meets Professor Yurugi—for the first time, she feels she has something to live for. But then Yurugi quietly leaves the university, and Ichika is left wondering why, and what could have been…

A gentle love story that grapples with the deepest existential questions we face in life. As the Shuji Terayama poem quoted in the text says, "If life is nothing but goodbyes, who needs life?"

Rated: 13+

The Yearning Fox Lies in Wait
By Nmura

In 1920s Tokyo, prodigy Kiyo has finally made it to university, only to find himself in a tough spot. He happens upon Ozaki, who invites him to live in his mansion. But is Ozaki just an eccentric recluse, or something far stranger? And what kind of relationship did he have with Kiyo's grandfather?

A supernatural, one-volume BL romance from the creator of Turns Out My Online Friend is My Real-Life Boss!

Rated: Older Teen 16+

Number Call
By Nagisa Furuya

From the creator of My Summer of You comes a new high school romance about the power of numbers—the author's Japanese debut, now available for the first time in English!

High schooler Eighto Tachibana has always hated his name, and the "8" jokes that came with it. One day, he meets a classmate named Tomoya Hatta, aka Hachi—the Japanese word for "8." What begins as casual greetings and small talk in the hallway soon becomes something much deeper, and Eighto realizes that it's more than just a similar nickname that draws him to Hachi. Could the number that Eight resented for so long finally bring him something he'll love?

Rated: Teen 13+

The White and Blue Between Us
By Kiyuhiko

Is it ever too late to make up for a lie? Or can the opportunity be swept away, like white clouds across a blue summer sky?

It's been seven years since Hozumi left behind the island town he grew up in, and Mishima—his close friend and first love from high school—with it. The two haven't spoken since Hozumi rejected Mishima and lied about his own feelings. When Hozumi returns for his high school reunion, he wants nothing more than to make amends, a task easier said than done.

A moving, dramatic, BL one-shot, perfect for fans of My Summer of You, Seven Days, or I Hear the Sunspot.

Rated: Mature 18+

The Fragrant Flower Blooms With Dignity
By Saka Mikami

The latest hit in Japan comes to print!

Two rival schools stand next door to each other: one for elite ladies, one for good-for-nothing boys. But one of those boys might just be a naturally chivalrous diamond in the rough, and one of those girls might be a little more open-minded than is proper…

Rated: Teen 13+

Gazing at the Star Next Door
By Ammitsu

The latest shojo from the creator of Ran the Peerless Beauty!

What do you do when your best friend (and secret crush) becomes a national sweetheart? This story of unrequited love between a girl and her best friend, whose acting career is pulling him further and further away, is perfect for fans of In the Clear Moonlit Dusk and Kimi ni Todoke.

Rated: Teen 13+

I See Your Face, Turned Away
By Rumi Ichinohe

From the creator of My Sweet Girl comes a new manga about four teenagers and their four stories of unrequited love. When you don't want to lose a friendship but long for something more, the only thing you can do is gaze at your beloved's face, turned away…

One might call Hikari extraordinarily ordinary. One day, she takes up a new hobby–imagining what a romance would be like between her pretty friend Mari and the cute guy in their class, Otani. It's all in harmless fun, until the roles start to get tangled in Hikari's mind. Does she really have to be just the best friend in this love story? And just who is on Otani's mind when his eyes drift?

Rated: Teen 13+

Ninja vs. Gokudo
By Shinsuke Kondo

Since before the dawn of memory, one thing has defined human history: the war between ninjas and yakuzas. This coarse and manly manga follows two members of these warring tribes who fill the gutters of modern Tokyo with blood to determine which elemental force will reign supreme!

Jojo's Bizarre Adventure meets Fist of the North Star in an outrageous new action series!

Rated: Older Teen 16+

A-DO
By Jaku Amano

A dystopian sci-fi action manga that pays homage to the classics.

Future Japan has became a volatile mix of cultures, rocked by the protests of xenophobic extremists. A brash, job-hopping young woman named Riko happens to save the life of a boy named Eito. Just as they're about to dig into some celebratory ramen, plant-like tendrils snake out from Eito's arm and stop a bullet in mid-flight. Who in the world is this boy, and why is the army after him?!

Rated: Older Teen 16+

The Blue Wolves of Mibu
By Tsuyoshi Yasuda

Nio is an orphan who can't help dreaming of a better world. In this action-packed manga, he meets two men who show him how much a few swords can change history.

This riveting samurai series from the acclaimed creator of Days shares its setting with Rurouni Kenshin and chronicles the founding of the Shinsengumi by handsome and volatile men fighting for justice…and for themselves!

Rated: Teen 13+

Sketchy
By MAKIHIROCHI

A portrait of young adulthood that will attract fans of Inio Asano, Akiko Higashimura, and Taiyo Matsumoto.

As her twenties slip by, Ako feels like she's falling behind. But a group of skateboarding girls will bring a newfound passion into her life in this reflective, relatable josei manga from the creator of Is Kichijoji the Only Place to Live?

Rated: Older Teen 16+

Bless
By Yukino Sonoyama

They said Aia was destined to be a model, and Jun was bullied for her freckles. Together, they will take back the power to define themselves in an inspirational fashion manga that asks cutting questions about what it really means to be beautiful—and what it takes to overcome an arbitrary system that seems to respect talent over hard work.

Rated: Teen 13+
Square Enix Announcements
SQUARE ENIX® announced a bunch of exciting new books releasing in 2024 and late 2023 from the Square Enix Manga & Books imprints!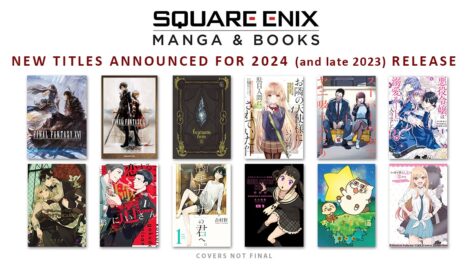 The Art of FINAL FANTASY XVI (English Edition)

In these lavishly illustrated pages, see how the world of FINAL FANTASY XVI was brought to life through hundreds of pieces of concept art and illustrations. Featuring the phenomenal work of the FINAL FANTASY XVI development artists, this volume is a superb visual compendium of Valisthea, from its Dominants and Eikons to its warring nations and rulers to its creatures and devices. At over 300 pages, this hardcover volume is printed on archival-quality paper stock and bound with a full-color casewrap and foil-stamped jacket.

FINAL FANTASY XVI Poster Collection (English Edition)

Revisit the epic dark fantasy world of Final Fantasy XVI with this compilation of 33 large-format, full-color art prints. Printed on heavy, press-varnished card stock, these frameable posters present sumptuous illustrations of the main characters, Eikons and more.

Encyclopaedia Eorzea III ~The World of FINAL FANTASY XIV~

Offering an astonishing amount of information covering the Shadowbringers and Endwalker expansions, this third volume of Encyclopaedia Eorzea brings readers further into the realms of the global hit video game. Hundreds of richly illustrated, full-color pages present detailed explorations of the events that occurred in Etheirys, Norvrandt, and the sea of stars, as well as comprehensive descriptions of their histories, peoples, lands, and more.

[Manga] The Angel Next Door Spoils Me Rotten, volume 1

Could these lonely neighbors be a match made in heaven? A cozy teen romance based on the novels that inspired the hit anime!

Amane Fujimiya lives alone in a messy apartment-right next door to Mahiru Shiina, a veritable "angel" who's the smartest, prettiest girl at school. When a chance encounter on a rainy day draws them together, Mahiru finds herself spending more and more time helping Amane get his life in order. And though they both insist they have no intention of dating the other, slowly but surely, something more than friendship begins to blossom.

AGE RATING: Teen

[Manga] Smoking Behind the Supermarket with You, volume 1

An overworked salaryman and a mischievous cashier with a dual personality form an unexpected bond in this sweet-and-sour comedy!

At age forty-five, office worker Sasaki has had enough of the corporate grind. His only solace is smoking-and the friendly smile of supermarket cashier Yamada. When Sasaki can't find Yamada after a particularly trying day, a striking woman invites him to smoke with her. The despondent man thinks he's made a new smoking buddy in the cool, teasing Tayama, but Sasaki doesn't realize he already knows her!

AGE RATING: Older Teen

[Manga] The Villainess's Guide to (Not) Falling in Love, volume 1

Can one would-be villainess fend off multiple handsome suitors' advances to simply live a peaceful life? Or will the game force a happy ending no matter what?

From a mundane existence to an extraordinary adventure! Luciana, once an ordinary woman, now finds herself reincarnated as the stunning villainess of an otome game. Well aware of impending plot twists, she's ready to rewrite her destiny and avoid catastrophe. She hatches a brilliant plan to live a peaceful life and avoid troublesome suitors. What could possibly go wrong?

Surprise! These persistent men refuse to take a hint! And if that weren't enough, she also possesses incredible, unparalleled magical abilities. What about this world has made her so special?

AGE RATING: Teen

[Manga] Victoria's Electric Coffin, volume 1

A thirteen-year-old medical genius gives a boy on death row a chance at life after death!

David Douglas wishes he'd never been born. What's the point of a slum boy enduring a miserable existence and ending up on death row? Victoria Frankenstein, a thirteen-year-old medical doctor, offers him a change of fate. Together they can help people and prove the worth of Victoria's invention, the Electric Coffin. After David becomes Eins, what kind of life will this second chance offer?

AGE RATING: Teen

[Manga] Mobsters in Love, volume 1

A wholesome Boys Love rom-com between a handsome but oblivious mob boss and his young, simplehearted but moody second-in-command!

Akihiro Kashima is the right-hand man of the Sawatari mob, and he has a secret. He's been hopelessly in love for years-with his boss! As a trusted subordinate, he's subject to the head honcho's unintended acts of seduction. But with Akihiro's position in the group at stake, he couldn't possibly reveal the infatuation that plagues him. Stuck between duty and his feelings, something's gotta give!

AGE RATING: Older Teen

[Manga] Just Like Mona Lisa, volume 1

Hinase falls into an identity crisis when their coming of age clashes with societal expectations in this unique teen drama!

In this world, people are born without a gender. Their bodies shift toward their desired gender when they reach twelve years old. Until Hinase's eighteenth spring, they lived content without a gender. But the bubbly girl Ritsu and thoughtful boy Shiori pull Hinase in opposite directions when they both confess their feelings on the same day! Romance was never on Hinase's mind, so how can they respond? Hinase may be forced to choose a new identity as they arrive at the cusp of adulthood. Who will they choose, and who will they become?

AGE RATING: Older Teen

[Manga] Soul Eater NOT!: The Perfect Edition, volume 1

Experience the fun-filled, action-packed spin-off to Atsushi Ohkubo's global hit with this all-new, deluxe collector's edition!

The birds are chirping, the sun is laughing… It's a beautiful day in Death City, Nevada, and fourteen-year-old Tsugumi Harudori is off to enroll at Death Weapon Meister Academy! But before she can become a rich and famous hero, she'll have to find a trusty partner (or two) who can wield her!

The saga of the Meisters and their Weapons takes on a whole new look in the gorgeous Soul Eater NOT!: The Perfect Edition!

Dive into Tsugumi, Meme, and Anya's adventures in a unique larger format on high-end paper stock that maximizes the dynamic art of the series!

Each volume of this deluxe omnibus edition of the megahit manga includes:

– The content of approximately 1½ original volumes!

– The original color pages from the manga's Japanese serialization!

– An updated translation and lettering!

– Brand-new cover art drawn by creator Atsushi Ohkubo himself!

AGE RATING: Older Teen

[Picture book] A Man and His Cat Picture Book

When the man and the cat found each other, they found their happily ever after too! They may not speak the same language, but the man and the cat speak through their hearts as they share a life together.

One evening, when the stars shine especially bright, there's a great shooting star in the sky, and the man and the cat wish on the star for happiness. But something isn't quite right!

And when the cat runs off into the woods, he discovers a strange space creature! Will they be a new furiend or foe?! And can this galactic being bestow happiness upon the man and the cat?!

AGE RATING: All Ages

[Book] My Dress-Up Darling Official Anime Fanbook

The My Dress-Up Darling Official Anime Fanbook is a must-have for fans of the sweet and spicy rom-com that took the world by storm!

These 100 gorgeous, full-color pages contain:

Galleries of hard-to-find promotional art!
Production materials from animation studio CloverWorks!
Staff commentary on every episode of the first season!
Exclusive interviews with the character designer, costume designer, lead voice actress, screenwriter, and series director!
A special message and illustration from manga creator Shinichi Fukuda!

AGE RATING: Mature