On June 22nd Random House Worlds announced that they will be collaborating with Marvel Entertainment to release a new series of  "What If…?" adult novels in 2024. Each novel will be a standalone twist on an established character's origin.
The first book in the series is WHAT IF…LOKI WAS WORTHY? A LOKI AND VALKYRIE STORY by Madeleine Roux, publishing on March 12, 2024,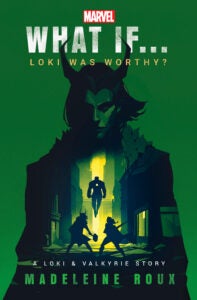 Loki and Valkyrie seek redemption in the first adventure of an epic new multiversal series that reimagines the origins of iconic Marvel heroes.
Following this will be WHAT IF…WANDA MAXIMOFF AND PETER PARKER WERE SIBLINGS? A SCARLET WITCH AND SPIDER-MAN STORY by Seanan McGuire, publishing in July 2024, and WHAT IF…MARC SPECTOR WAS A HOST TO VENOM? A MOON KNIGHT AND VENOM STORY by Mike Chen, publishing in October 2024.