A young Dominican girl navigates middle school, her strict mother, shifting friendships, and her dream of being an artist in this coming-of-age graphic novel inspired by the author's tween years.
Writer and artist Stephanie Rodriguez talks Latine representation, The Bronx, and more in this interview about her debut graphic novel Doodles from the Boogie Down – available now!
First off, congratulations on the release of your first graphic novel! What made you want to tell this specific story through comics?
Prior to "Doodles from the Boogie Down," I self-published comics. My comics were on the shorter end, but I had always wanted to push myself to write longer-format stories. In particular, I wanted to reflect on my middle school years and use that as material for a longer comic. PRH gave me the opportunity to make those dreams come to life. For me, comics are the best medium for storytelling because you can combine writing and illustration to deliver a story where the reader doesn't need to use their imagination to visualize what's going on. The images are already provided, and you can relax your mind and get engulfed in the world that the illustrator created.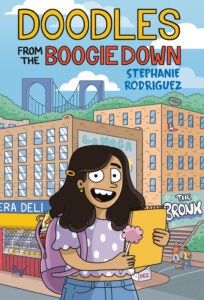 There are very few stories featuring the Bronx in comics and even fewer that present it in a positive light. What do you hope to convey bout the Bronx in this book?
I didn't want to focus on our struggles and show that the Bronx is more than what we hear in the media, which is usually in a negative light. I wanted to celebrate the Bronx as a cultural and creative hub. As an illustrator who grew up in the Bronx, I'm inspired by the colors and textures that I see in my community. It was important for me to illustrate the murals sprayed onto the sides of our apartment buildings, the colorful store awnings for our bodegas and showcase our art deco buildings that line up the Grand Concourse. A place can be multiple things and it's best not to judge a book by its cover.
There is heavy use of untranslated Spanish and Spanglish throughout the book. How do you hope that this will impact the reading experience of children who know the language and those who don't?
I made the decision to include untranslated Spanish and Spanglish in the book early in the bookmaking process. I wanted the book to read authentically to how I grew up and to represent Spanish-speaking kids whether they are fluent or speak Spanglish. I feel that the illustrations help give non-Spanish speakers the context clues they need to understand what's being said in those moments and many times the phrases are repeated in a way where the reader will catch on to the meaning.  I hope that reading a multilingual book will pique a kid's interest in learning another language and expose them to different cultures and communities.
Were there any barriers trying to get into publishing as a Latina woman? If so, how do you think we could start to break down those barriers and encourage more Latine stories in comics?
Yes, I faced barriers as a Latina. It was especially apparent when I was self-publishing comics prior to "Doodles from the Boogie Down." I didn't see a lot of people who looked like me at comic and zine festivals. The beginnings of my publishing career felt really lonely, but over time, I found my community. I posted my work on social media and promoted the events where I was selling my work, so that people who were interested in the kind of stories I was writing would come and support me. I was able to connect with people on an emotional level through my comics. Over the years, I made friends with other comic artists of color, and we do our best to look out for each other. I think that in order to break down those barriers, Latinx folks and other marginalized groups should get involved in the organizations of these events or create their own. Diversify who runs things behind the scenes in order for the next generation of writers to be seen.