As revealed yesterday on Anime News Network, Trigun will be getting the Deluxe Hardcover treatment from Dark Horse! Followed by Trigun Maximum!
Trigun Deluxe Edition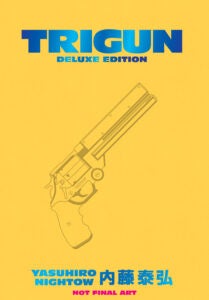 **Not final cover**

Trigun is a worldwide manga and anime sensation!

Trigun Deluxe Edition collects Trigun Volume 1 and 2 in a beautiful hardcover featuring nearly 700 pages of Yasuhiro's Nightow's signature creation, collected for the first time in its original oversized format!

On the forbidding desert planet of Gunsmoke, a sixty billion double-dollar bounty hangs over the head of Vash the Stampede, a pistol-packing pacifist with a weapon capable of punching holes in a planet. Every trigger-happy psycho in creation is aiming to claim Vash dead or alive—preferably dead!—and although Vash believes in nonviolence, he won't go down without a fight. And when Vash fights, destruction is sure to follow!

This Deluxe Edition features:

The original 7″ X 10″ page format.

Faux leather cover with foil stamping and burnishing.
A bookmark ribbon.

Collects Trigun Volume 1 and 2.
Dark Horse will be following it up with Trigun Maximum Deluxe Edition Volume 1 (of 5) which will gather the first three Trigun Maximum volumes in a deluxe hardcover edition featuring nearly 600 pages of Yasuhiro Nightow's signature creation in the original oversized format!
Trigun's perfect for fans of classic action-adventure manga and anime, such as Rurouni Kenshin, Cowboy Bebop, and Blood Blockade Battlefront. Be sure to pre-order at your local comic shop!
(Bigolas if you're reading this, I hope you're having an awesome week!)