Since Marvel Comics started publishing Star Wars Comics in 2015 they have released a variety of Darth Vader comics, each focusing on the Dark Lord at a different point in the Star Was timeline.
Here's a guide to every canon Darth Vader Series
Star Wars: Darth Vader (2015-2016)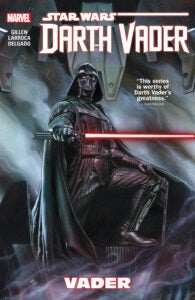 This series follows Vader after the events of Episode 4: New Hope. In it he investigates the identity of the mysterious rebel pilot who shot him down, while reestablishing the empire's power after the destruction of the Death Star. This series includes cameos from iconic characters like Boba Fett, and introduces new ones, like the now fan favorite Doctor Aphra.
Star Wars: Darth Vader (2017-2018)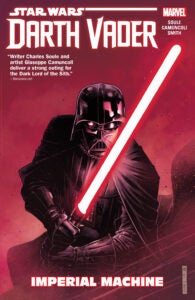 This series takes place immediately following the events of Episode 3: Revenge of the Sith. It follows Darth Vader as he hunts down the remaining Jedi who weren't killed in order 66. This series is heavy on action as Vader encounters increasingly dangerous Jedi hidden across the galaxy. It shows previously unseen moments like the origins of Vader's Red lightsaber as well as his first meeting with his Jedi Inquisitors (who you may recognize from the Star Wars: Rebels animated series and the Jedi: Fallen Order Video Game).
Star Wars: Target Vader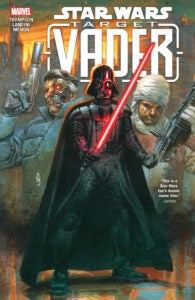 A mysterious criminal syndicate called the Hidden Hand has hired a team of bounty hunters to kill Darth Vader. Vader must now evade attempts on his life while figuring out who hired the group of assassins and how to stop them. This is a mini-series so it's perfect for Vader fans who don't want to commit to a longer series.
Star Wars: Darth Vader (2020-Present)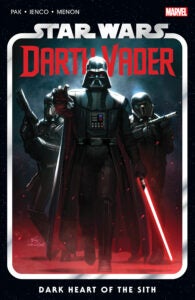 This is Vader's current and longest ongoing series. Taking place between Episode 5: Empire Strikes Back and Episode 6: Return of the Jedi, It follows Vader as he reflects on Luke's denial to join him and goes on a mission to hunt down the people he believes hid his son from him and made him weak.
Star Wars: Darth Vader – Black, White, & Red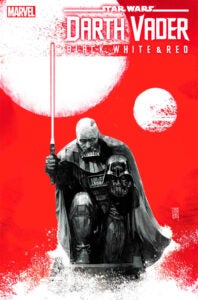 This is an anthology series featuring multiple stories from across Vader's history, each focusing on a different aspect of the character. If you want to see what some of your favorite comic creators like Jason Aaron, Peach Momoko, Klaus Janson, and more can do with the Dark Lord of the Sith, this is the book for you!
You can find all of the books mentioned in this article below. Want more Star Wars? Check out all of our Star Wars titles HERE