A brand new trailer for The Flash has just been released!
From Warner Bros.
Worlds collide in "The Flash" when Barry uses his superpowers to travel back in time in order to change the events of the past. But when his attempt to save his family inadvertently alters the future, Barry becomes trapped in a reality in which General Zod has returned, threatening annihilation, and there are no Super Heroes to turn to. That is, unless Barry can coax a very different Batman out of retirement and rescue an imprisoned Kryptonian… albeit not the one he's looking for. Ultimately, to save the world that he is in and return to the future that he knows, Barry's only hope is to race for his life. But will making the ultimate sacrifice be enough to reset the universe?
If you're excited to watch Barry Allen, other Barry Allen, Batman, other Batman, and Supergirl team up in theatres, check out these awesome titles!
Flashpoint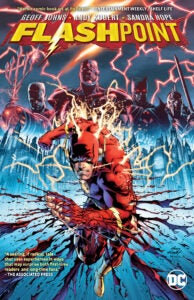 Barry Allen has woken up to a present that he barely recognizes. The Justice League as he remembers them don't exist, he doesn't have any powers, and Atlantis and Themyscira are at war. Barry must team up with a different, older, and deadlier Batman to figure out how to fix this. Based on the trailers, this story seems to be the main inspiration for the new film.
The Flash Vol 1: Lightning Strikes Twice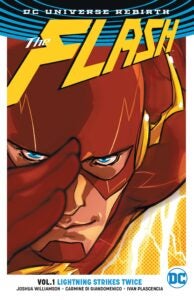 A speedforce storm hits Central City and gives a bunch of random citizens superspeed. The Flash must wrangle these new speedsters while also dealing with a brand new villain, Godspeed! This is the start of Joshua Williamson's excellent Flash run. It introduces new members of the Flash family, adds to the Flash's mythology in interesting ways, and brings back some fan favorite characters. If you want a longer Flash run to checkout, this is the one!
Batman/The Flash: The Button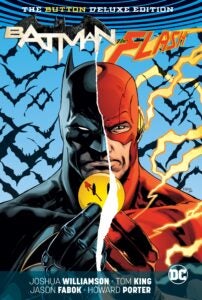 In this story, Batman and the Flash must track down The Reverse Flash after he's stolen The Comedian's Button from the Bat-Cave. This chase takes Barry and Bruce across timelines and has them meeting with some familiar faces from both of their pasts. If you're excited to see Batman and the Flash team up on screen, this is one of their most prominent comic team-ups.
Batman '89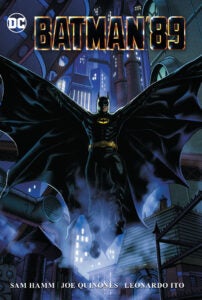 This is a direct sequel to the original 1989 Batman film. In this story Batman will come across old faces like Joker thugs and Catwoman, and new versions of classic characters like Two Face and Robin. If you're excited to see Michael Keaton don the cape and cowl again, this is the book to check out.
Supergirl Woman of Tomorrow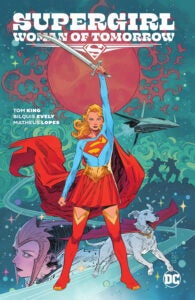 In this book Supergirl goes on an adventure with a young alien girl to get revenge on the people who took everything away from her. This character driven, space fantasy epic is the perfect standalone story to read if you're excited to see Supergirl on screen.
Want more Flash? Check out all our Flash titles HERE!