On Friday (4/14) the cover for the upcoming Official Critical Role Cookbook was revealed: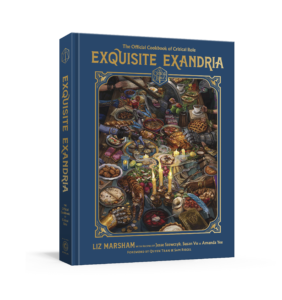 Exquisite Exandria: The Official Cookbook of Critical Role
Featuring sixty delicious recipes from across the world of Critical Role, every Critter will find something to whet their appetites in this official cookbook.
The recipes from these diverse dives are accompanied by the histories of each land—and stories of iconic culinary capers by Vox Machina, the Mighty Nein, Bells Hells, and more. Enjoy Percival de Rolo's Revenge Pasta, stuffed with enough garlic to ward off even the strongest vampires, and blackberry and lemon hand pies inspired by Scanlan's favorite spell. Prepare for battle with Jester's Sweet Feast, a platter of pastries made complete with a dash of cinnamon and a covert sprinkle of the Dust of Deliciousness. And as the night comes to a close, settle down with Lord Eshteross's Maple Ginger Cookies.
With a foreword by Quyen Tran and Sam Riegel, gorgeous illustrations and photography to accompany mouthwatering recipes, and lore from each corner of Exandria, this is a must-have cookbook for every Critical Role fan.
Be sure to get your hands on it when it releases 8/29/23!