The first trailer for Marvel Studios' the Marvels has just been released! (below)
If you want to get caught up with Monica Rambeau, Carol Danvers, and Kamala Khan before the release of the film on November 10th, check out these great jumping on points for each character!
CAROL DANVERS AKA CAPTAIN MARVEL
Ms. Marvel Epic Collection: This Woman, This Warrior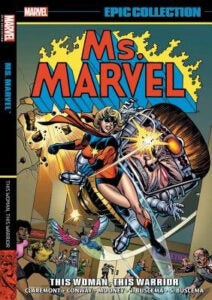 Before she was Captain Marvel, Carol Danvers first appeared as Ms. Marvel. If you want to start at the very beginning of Carol's super-hero career check out this collection of her first ever solo series, before she became the Captain Marvel we all know and love today.
Captain Marvel Earth's Mightiest Hero Vol. 1
In 2012 writer Kelly Sue DeConnick wrote this character-defining run in which Carol Danvers takes up the mantle of Captain Marvel for the first time ever! If you want to see the start of Carol's modern adventures as Captain Marvel, this is is the book to check out!
Captain Marvel by Kelly Thompson Vol. 1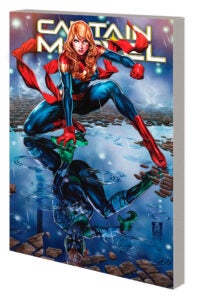 If you want to check out what Carol's been up to in her most recent appearances, this is the start of her most recent ongoing series by writer Kelly Thompson.
MONICA RAMBEAU AKA PHOTON
Captain Marvel: The Saga of Monica Rambeau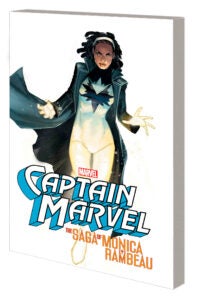 Before she was Photon, Monica Rambeau made her debut as the new Captain Marvel. This book collects many of Monica's earliest appearances including her first appearance/origin in Amazing Spider-Man, her first outing as leader of the Avengers, and even her first appearance as Photon in Avengers Unplugged! If you want to read the big moments in Monica's early history, this is the place!
Marvel-Verse: Photon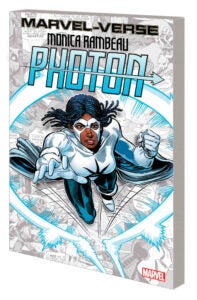 This is another collection of Monica appearances throughout the years. In addition to also including her origin issue, this collection includes her first confrontation with Carol Danvers after she takes on the mantle of Captain Marvel. This is the perfect jumping on point for young readers wanting to learn more about Photon.
Monica Rambeau: Photon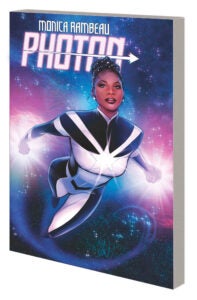 If you want to know what Monica has been up to recently, she just got her first ever solo series by writer Eve L. Ewing. This mini series puts Monica and her long history across the Marvel Universe in the spotlight.
KAMALA KHAN AKA MS. MARVEL
Ms. Marvel: Kamala Khan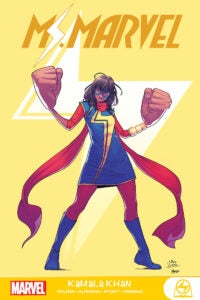 This series was the readers' introduction to Kamala Kahn and the start of writer/creator G. Willow Wilson's exciting run on the character! If you want a great place to familiarize yourself with Kamala's origin and cast of supporting characters, this is the book!
Marvel-Verse: Ms. Marvel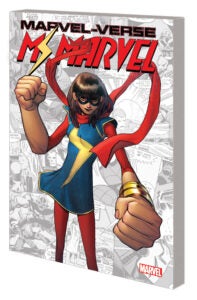 This is a collection of several short standalone stories featuring Kamala. She'll team up with characters across the Marvel Universe like Mile Morales and Carol Danvers! This is great for readers who want fun Ms. Marvel stories without having to commit to a longer series!
Ms. Marvel by Saladin Ahmed Vol 1.
If you want to check out Kamala's most recent adventures, this is the start of her last ongoing series by writer Saladin Ahmed.
You can find all of the books in this article below. Want more Marvels? Check out all of our Marvel family titles here!