This weekend was full of exciting Marvel announcements! From new trailers to huge comic events, here is all of the big Marvel news you might've missed!
Spider-Man: Across the Spider-Verse Trailer 2 Released
Today (4/4) Sony Pictures released a brand new trailer for the upcoming Spider-Man: Across the Spider-Verse:
From Sony Pictures Entertainment
Miles Morales returns for the next chapter of the Oscar®-winning Spider-Verse saga, Spider-Man™: Across the Spider-Verse. After reuniting with Gwen Stacy, Brooklyn's full-time, friendly neighborhood Spider-Man is catapulted across the Multiverse, where he encounters a team of Spider-People charged with protecting its very existence. But when the heroes clash on how to handle a new threat, Miles finds himself pitted against the other Spiders and must redefine what it means to be a hero so he can save the people he loves most.
Can't wait until Across the Spider-Verse swings into theatres June 2,2023 to get your Spider-Verse fix? Check out all of Marvel's Spider-Verse titles here!
Secret Invasion Trailer Released!
Last Sunday (4/2) Marvel Studios released our first look at Disney+'s upcoming Secret Invasion show –
Check out all of Marvel's Secret Invasion titles here before the show premiers on Disney+ June 21. 2023!
Marvel unveils the new era of X-Men: The Fall of X
At Megacon Marvel revealed the next era of X-Men: The Fall of X!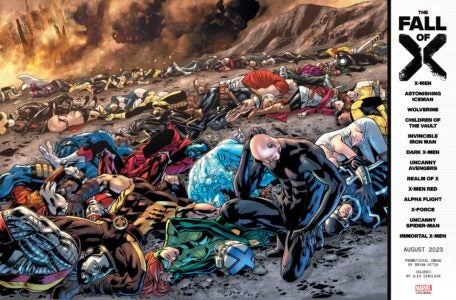 From Marvel:
Since 2019's revolutionary HOUSE OF X and POWERS OF X series, mutantkind has experienced unparalleled growth and prosperity on the island nation Krakoa—but can it really last forever? It all begins in July's shocking X-MEN: HELLFIRE GALA #1 one-shot, where danger, conspiracy, and sacrifice threatens to shatter everything mutantkind accomplished on Krakoa.
Want to see the rise before the fall? Check out all of Marvel's X-Men titles here!
Marvel Celebrates Venom's 35th Anniversary with The Summer of Symbiotes
At C2E2 Marvel announced that they're celebrating the 35th anniversary of one of Spider-Man greatest foes, Venom, with The Summer of Symbiotes!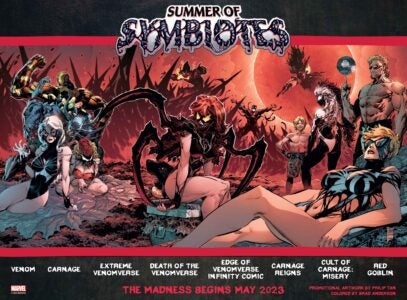 From Marvel
Starting in May, the symbiote characters you know and love as well as exciting new symbiote stars will have their day in the sun! Dubbed the SUMMER OF SYMBIOTES, this celebration of Venom's 35th anniversary will include a host of ongoing series, limited series, and crossovers spotlighting Venom, Carnage, Red Goblin, and many more!
Want to get the symbiote celebration started early? Check out all of Marvel's Venom titles here!