Being a Moth Keeper is a huge responsibility and a great honor, but what happens when the new Moth Keeper decides to take a break from the moon and see the sun for the first time? From the author of the beloved Tea Dragon Society comes a must-read for fans of the rich fantasies of Hayao Miyazaki and the magical adventures of Witch Hat Atelier.
K. O'Neill talks about their new graphic novel, available in comic shops March 7th!
The Moth Keeper is set in a lush fantasy world filled with magic. Were you inspired by any
real-life places or cultures when creating?
My biggest inspiration for this book was the New Zealand landscape—the way you can see millions
and millions of years in the lines of mountains and plains, and how the scale and changing light
remind us that we are very small.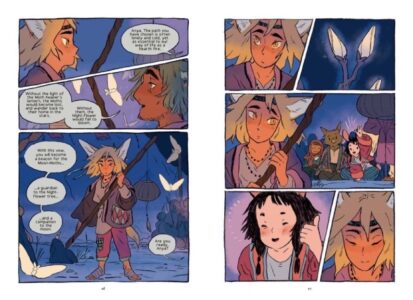 Anya is excited to finally become a Moth Keeper, but despite her dedication, she struggles
with the role. Why do you think it's important for young readers to have access to stories
where characters struggle to balance their responsibilities with their passions?
I wanted to create a story that shows children that not only is it okay to stumble, but also that you
don't always need to carry a burden of responsibility alone if it becomes too heavy. Both are ideas
that I think are important to think about early on in life.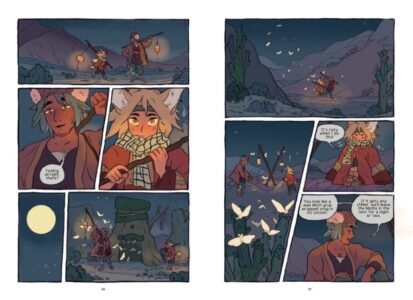 You are both the author and the illustrator of The Moth Keeper. Can you tell us a little bit
about your creative process?
I began with a very simple idea: a nocturnal character who dreams of living beneath the sun.
I really liked the image of a lantern herding a flock of moths through the darkness. From there, the
characters and world developed naturally, giving those ideas more meaning and becoming the plot
for my story.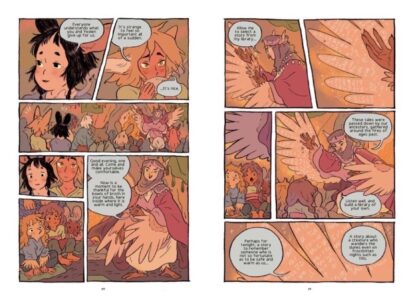 Graphic novels are popular with middle-grade readers. What drew you to create a graphic
novel for this age group?
I had already created the Tea Dragon Society series for this age range, and
I liked that I had to simplify and refine my ideas as much as possible, while still
allowing a fairly complex expression of emotions and character growth.
---