For those "not in the know," the biggest comic book celebration of the year occurs annually on Free Comic Book Day. An alliance of participating comic retailers, publishers and distributors share the cost of handing out (literal) tons of comics, for free, to customers! This event typically runs on the first Saturday in May, which is May 6th this year.  This is an incredibly important event in the comic calendar, practically a holiday just for celebrating comics.
Retailers almost universally report a fun, exciting, and tiring day! For many stores this is their biggest shopping day of the year, which involves a lot of intricate set up and staffing management, as this free promotion is often combined with large sales initiatives. Many locations even combine their event with cosplay, signing or sketch events with local comic writers and artists, adding to the festive atmosphere.
For this year's show in 2023, PRH is distributing a number of lovely titles from Marvel, IDW and Kodansha comics.  Some of these titles sample upcoming graphic novels, reprint great stories perfect for kids, and provide original material teasing upcoming major comic events.  Take a look below…
Kodansha – is offering one manga title containing two stories!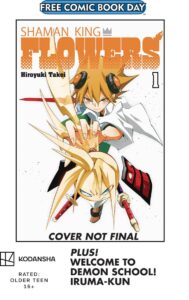 Shaman King/Welcome to Demon School Iruma-Kun – this sampler containing two popular "shonen" series.
Shaman King: Flowers is a follow-up tale to a past hit manga and anime series set in a world full of battling shaman who are able to commune with spirits and use them in combat.
Welcome to Demon School Iruma-Kun is a supernatural comedy about a kid forced to attend a school for demons, who must hide his human identity while also mastering the tricks of the dark arts; also a multi-season hit anime show.
This title is appropriate for readers 13 and older.
IDW – is offering two titles relating to current or upcoming comic series!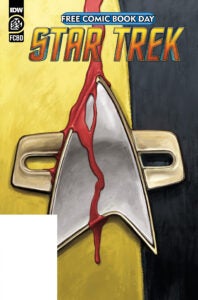 Star Trek: Day of Blood contains a prelude issue to IDW's summer Stark Trek crossover event, a must-have for your Trek subscribers and an attention-grabbing cover to entice your sci-fi enjoyers to spark their curiosity in IDW's shared comic Trek universe.
This title is appropriate for readers 13 and older.
Teenage Mutant Ninja Turtles – presents a sampler of stories from their recent Teenage Mutant Ninja Turtles Saturday Morning Adventures series.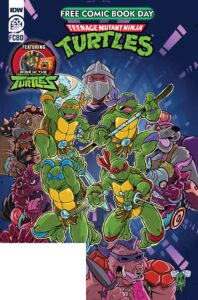 This title is appropriate for all ages.
Marvel – is offering four titles this year!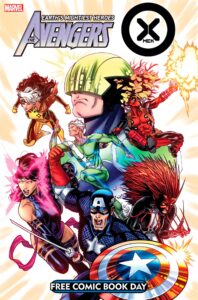 Avengers/X-Men – Includes new stories that relate to the upcoming Fall of X event while introducing a new team lineup; also includes a preview for an upcoming title from Jonathan Hickman and Valerio Schiti.
This title is appropriate for readers 13 and older.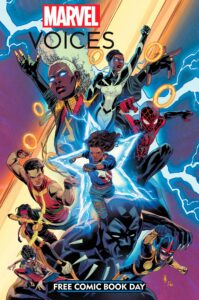 Marvel's Voices – Highlights stories from past Marvel Voices issues, spotlighting diverse creators and characters.  Will include a brand-new story in addition to reprint material.
This title is appropriate for readers 13 and older.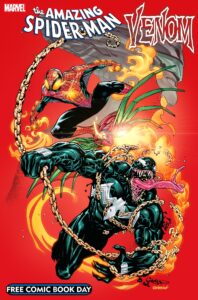 Spider-Man/Venom – Includes new prelude material relating to upcoming "Summer of Symbiotes" event first announced at New York Comic Con.
This title is appropriate for readers 13 and older.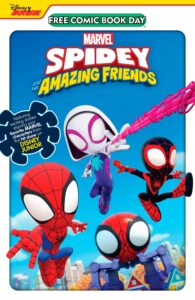 Spidey & Friends – Features stories and art style based on the Disney Junior animated show, includes some activities for kids!
This title is appropriate for all ages.
Additionally, take a look at these other awesome FCBD titles being offered by PRH Publishers!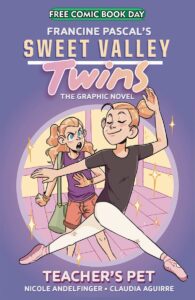 Sweet Valley Twins: Teachers Pet Sampler – Get ready for an exclusive sneak peek into the all-new Sweet Valley Twins: Teacher's Pet! It's Elizabeth's turn in the spotlight… but does Jessica deserve it more? The Wakefield twins return in this graphic novel adaptation of the New York Times best-selling Sweet Valley Twins! Jessica knows she's the better dancer – but their teacher only seems to have eyes for her sister Elizabeth! No matter how hard or perfectly she dances she's not getting recognized – which becomes a huge problem when it becomes clear that her sister is going to get the main role of Swanilda instead of her. Even worse, Elizabeth refuses to believe that their teacher is favoring her! With Jessica's attitude rapidly souring and Elizabeth slowly realizing that Jessica might actually be right, will they be able to find a way to get Jessica her leading role? Francine Pascal's beloved Sweet Valley Twins series continues with Claudia Aguirre offering her fresh and modern artwork just right for today's contemporary middle-grade graphic novel.
This title is appropriate for all ages.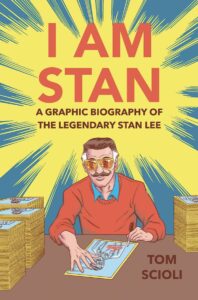 I Am Stan Sampler – The very first graphic novel biography of the legendary Stan Lee, co-creator of Marvel's many superheroes including Spider-Man, Iron Man, Black Panther, Black Widow, Doctor Strange, and more, from Eisner-nominated artist Tom Scioli. I Am Stan gives Lee's life the comic book treatment and reveals the inner workings of the legendary creator.
This title is appropriate for all ages.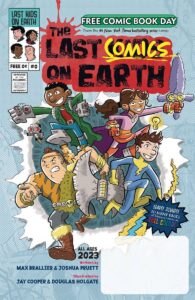 Last Comics on Earth – From worldwide bestselling author Max Brallier comes a full-color graphic novel spin-off series based on the #1 New York Times, Wall Street Journal, and USA Today bestselling Last Kids on Earth! In this series opener, Jack Sullivan, Quint Baker, June del Toro and Dirk Savage decide to carry on the legacy of their favorite comic book character by writing the next volume in the collection. What could go wrong? Just about everything!
This title is appropriate for all ages.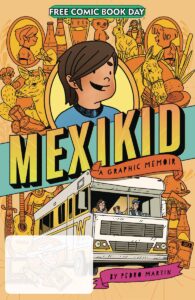 Mexikid – Pedro Martin is an American-born Mexican kid who's always felt not quite Mexican and not quite American. Now, he and his family are piling into their Winnebago to bring his mysterious, Mexican-Revolution-era Abuelito home to live with them. This graphic memoir details Pedro's road trip of a lifetime, full of laughs and heartaches, and a new understanding of his abuelito and himself.
This title is appropriate for all ages.