For those "not in the know," the biggest comic book celebration of the year occurs annually on Free Comic Book Day.  An alliance of participating comic retailers, publishers and distributors share the cost of handing out (literal) tons of comics, for free, to customers!  This event typically runs on the first Saturday in May, which was May 7th this year.  And for the first time since the start of the pandemic the industry was able to hold FCBD on its normal schedule!
Many retailers universally reported a fun, exciting, and tiring day!  For many stores this is their biggest shopping day of the year, which involves a lot of intricate set up and staffing management.  Many locations even combine their event with cosplay, signing or sketch events with local comic writers and artists, adding to the festive atmosphere.
All told, it was a highly successful event, and I've posted below some anecdotes from some of the stores up and down the East Coast sharing their story about their Free Comic Book Day!  I am already starting to get excited about what's in store for next year!
---
"FCBD 2022 attendance and sales were up tremendously from the previous year. It was our best year in 31 year history.
All the fans had a great time. I hope they do a George Perez and Neal Adams tribute to honor them during FCBD 2023.
Overall great experience. The team worked hard and it all paid off."
Galactic Quest was featured on the Lawrenceville Bicentennial Podcast to speak about Free Comic Book Day, available to watch here on YouTube.
GQ worked with the city of Lawrenceville to celebrate Free Comic Book Day.  Visitors were able to walk around Lawrenceville Square and receive free comic books — and many dressed up as their favorite comic book character for the event. The city also hosted a mini comic book convention at the Lawrenceville Arts Center.  Pictures of their event can be viewed here.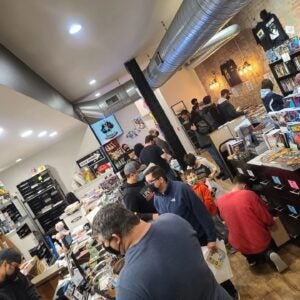 East Side Mags – Montclair, NJ
"We actually had one of our best FCBDs ever. We moved into a sweet new space last October and it's paying off."
East Side Mags had some leftover books despite their massive event, and is considering turning their remainder into a Free Comic Book Day Month!
Please take a look at more of their exciting photos on their Facebook page!
"FCBD went well. We had a lot of visitors, and good sales day, in line with FCBDs in the past."
Freakopolis produced their own video featuring The Wizard Ozmand to promote their Free Comic Book Day event, watch it on YouTube!
"FCBD was great here at The Comic Collection. Dave Franchini from Zenescope Entertainment did a signing at the store."
"Free Comic Book Day was excellent. Despite the inclement weather, people came out and made lots of purchases and were very excited for the afternoon."
Visit their Facebook page to watch their promotional video!
"So on FCBD, we set up shop outside my home and distributed flyers throughout local neighborhoods. My kids helped out in giving away comics to passers-by like a lemonade stand, and it was amazing! 
At the end of the day, I contacted 2 schools – a public Middle School in Parkland, FL and a K-8 Charter School in Coral Springs, FL and had them create a Free Comic Book Day for their students on the Friday after FCBD, which was a testing day. After testing, the kids were allowed to select 2 titles each from the available ones (and age-appropriate) and they were so excited! It was incredible to see the kids reading comic books during lunch, between classes, and on the busses on their way home, rather than spending their time on their electronic devices.
My wife is an English teacher and I own a comic book store, so instilling a love for reading is a passion in my family – and events like FCBD allow us to pass that on not only to fans and collectors, but to the next generation!"
Comic Relief combined their event with a large store-wide sale to increase shopping interest.  Felt the superhero and all ages titles were the most in demand throughout the day and hopes to see more choices next year!
"Greg Land was at my store and his new Avengers book had a sneak peek in the back of it so he signed every single copy we got and we didn't have anywhere near enough. Sergio Cariello from Lone Ranger and Action Bible was there along with Scott Spillman a famous painter known for his horror and Walking Dead art and comic conventions. I was going to do it low-key this year but it ended up blowing up. Mall management was there and said there was more people in the mall than even on Black Friday, I'm not kidding it was pretty intimidating after about three hours in and the line wasn't shrinking only getting longer.
The local news station ran a video reporting on Yancy's Free Comic Book Day event that continued to send out waves of people on top of an already crazy day, including Dan Didio, former co-publisher of DC Comics, who visited along with his family!"
Bulletproof fought through periods of torrential downpour to still put on a terrific event!  Comic writer Deniz Camp and artist Nik Draper Ivey signed and did sketches.
Bulletproof also promoted their event via The Geeky Day Podcast.
Feel free to take a listen here!
"Free Comic Book Day went great. The weather was really bad which discouraged some people from camping out the night before. Still beat our sales goals! Promotions included free t-shirts and swag to the first people in line at our locations, an in-store sale, a raffle for a store-branded sneaker, and much more.
The May date is so important for FCBD, crowds were back to where they were before."
Third Eye does an intense amount of advertising to promote their event, everything from flyers to radio ads to social media, take a look at a TikTok they made!