Welcome to the monthly staff picks, where we share our favorite comics, graphic novels, manga, & more! Check out our picks for upcoming titles, plus our favorite backlist titles that you might have missed from our U.S. Comic Market Sales team (Tyne, Matthew, Ben, Nico, Steph), our Canada Comics Market Sales team (Aleks), and our International Comics Market Sales team (Hector, Ji)!
Picks from the U.S. Comic Market Sales team (Tyne, Matthew, Ben, Nico, Steph)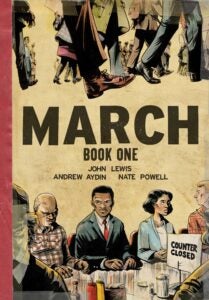 Tyne's Picks
March: Book One (Oversized Edition)
John Lewis was a personal hero of mine- his death broke my heart. He was one of the most powerful change agents this country has ever known. I hope you'll give MARCH a read and commit to causing good trouble in his memory.
Ben's Picks
Captain America: Truth TPB Baker Cover (New Printing, DM Only)
Not only is this a title that features an important character (Isaiah Bradley) from last summer's Falcon & Winter Soldier, this collection had been left out of print for decades, and it's finally back!  Worth a look if you found that character and his circumstances intriguing.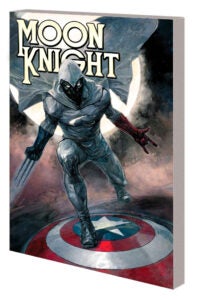 Moon Knight by Bendis & Maleev: The Complete Collection TPB
Bendis & Maleev are one of the best creative teams in comics and this collection gathers their Moon Knight run, which really explores some of the psychological problems that Marc Spector has struggled with throughout his time as a superhero.
The Flintstones The Deluxe Edition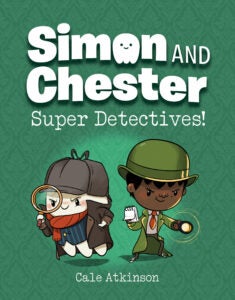 This is a title I haven't read, but repeatedly came up in any conversation I've had about undiscovered gems the past few years.  Mark Russell is a rising name in the comics world and I'm very interested in grabbing this deluxe hardcover.
Super Detectives! (Simon and Chester Book #1)
My two boys love to invent creative "detective missions" to solve around the house, and I feel like this is the perfect little book to put in their hands for them to enjoy and spark their imagination.
Nico's Picks
MOON KNIGHT VOL. 1: THE MIDNIGHT MISSION TPB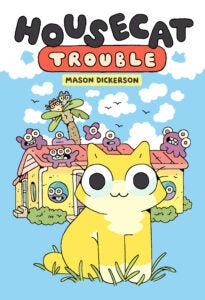 Alessandro Cappuccio's art for the series is SO COOL!!! While you're waiting for the upcoming Disney+ show, definitely don't miss out on this run!
I'm a sucker for anything with cats and this looks adorable!!!
I'm so curious who the new Iron Fist is!
Steph's Picks
I grew up watching the Static Shock cartoon, and I got so excited to see Virgil back in comics once again! The costumes are new, the times are modern, but the story still features a bunch of kids trying to navigate a new world of super powers. The art in particular in this series is stunning, capturing the electric battles and quiet family moments perfectly.
Seaside Stranger Vol. 2:  Harukaze no Etranger
A seaside love story! The first volume was all about Shun and Mio figuring out themselves and their feelings, and now they're traveling to Hokkaido as a couple to visit Shun's estranged family. Painful and sweet in equal turns, this is a must-read for older fans of queer love stories.
Heaven Official's Blessing:  Tian Guan Ci Fu Vol. 2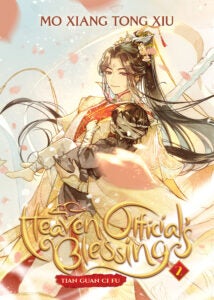 This series is packed with adventure, intrigue, and 800 YEARS of pining, so needless to say I'm desperate to get my hands on every volume. Xie Lian is a modest god with a heart of gold (and tragic backstory, naturally), Hua Cheng is a mysterious ghost king who is only nice to Xie Lian (for secret reasons), and I absolutely adore their story. If you're new to danmei, this is a perfect series to start with (although really I recommend all three MXTX volumes; this one just happens to be my favorite). Mature readers only, though!
This series really took me by surprise! A seemingly shy girl secretly spends her days tweeting about a fantasy relationship with the most popular boy in school (who doesn't know she exists). He seems like the ideal dreamboat, except it turns out he's a rude brat! This story is filled with characters who turn the classic shoujo tropes on their heads, and it's really refreshing to see friendships and romances form between characters that are flawed, but ultimately very likeable.
There's a growing trend of stories featuring animals who are very good at doing housework and caring for their humans, and I'm all here for it! Pen the penguin looks absolutely adorable, and there's always space on my bookshelf for warm comfort reads like this!
My Wandering Warrior Existence
At this point, I'll pick up anything by Nagata Kabi. Her deeply personal diary comics make me cry and cheer in equal turns, and I sincerely just want her to be happy. Her previous volumes have covered topics like sex and sexuality, physical and mental health, addiction, family, and independence. Now she's exploring love and marriage, and I am absolutely rooting for her!
Picks from the Canada Comics Market Sales team (Aleks)
Aleks' Picks
The Montague Twins #2: The Devil's Music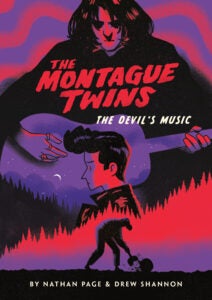 The magical teen detectives are  back with a second installment even more thrilling than the first. Fans of The Hardy Boys and Paper Girls will fall in love with this paranormal mystery set in a small coastal town in the 1960s. Canadian creators Nathan Page and Drew Shannon have created a fun and magical world with an engaging story line and groovy art style, kids of all ages will love.
One house, three cats, and a lot of trouble! When a scaredy-housecat is home alone for the first time, he and his furry friends are forced to face monsters and their fears on a quest to save the day. This debut middle-grade graphic novel is filled with silly jokes, adventures and the cutest cat you ever did see.
A tongue-in-cheek introduction to the science of comic-book supervillainy, revealing the true potential of today's most advanced technologies. In How to Take Over the World, bestselling author and award-winning comics writer Ryan North details a number of outlandish villainous schemes, drawing on known science and real-world technologies. Picking up where How to Invent Everything left off, his explanations are as fun and informative as they are completely absurd. The book is illustrated throughout with helpful diagrams and fun comics and if you aren't already a fan of Ryan North, you soon will be.
Picks from the International Comics Market Sales team (Hector, Ji)
Hector's Picks
I love stories where superheroes leave their home turf and Tom Taylor has become a master at placing classic characters in new environments.  On the Six-issue miniseries collected here, Batman travels to Europe (UK, France and Belgium) to hunt a new villain with the help of new allies.   It's an action packed thrilling Dark Knight adventure, but across the pond.
Grimgar of Fantasy and Ash (Light Novel) Vol 17
In this gritty isekai a group of strangers must work together after they all suddenly wake up with amnesia in a fantasy world.  The characters are so well developed that you get highly invested in them and are truly afraid for their survival.
A boy leaves his home planet for the first time in search for adventure and to learn more about a mysterious power that he and few others in the Galaxy can wield like a weapon.  It's Star Wars meets Fairy Tail (also created by Hiro Mashima), but if Princess Leia was a Youtuber and Chewbacca was a cat named Happy.
Ji's Picks
Skip and Loafer is the ultimate comfort read. How can you deny that face of country girl Mitsumi? She has the most amazing facial expressions. She is a mess, a bit over-the-top, but smart and ambitious. She goes to Tokyo with her hopes and dreams and approaches the world in her own way. She is a BOSS, but still in high school. If you're looking for a fun and wholesome read with endearing characters, go out and read it especially before the anime comes out!
The Flintstones The Deluxe Edition
This story is brilliant and totally unexpected when I first picked it up. The Flintstones? How good can it be? I was played, but in a good way. It takes the setting of the stone age and douses it with social commentary and sprinkles it with dark humor that turns the gaze toward the weird practices that humans engage in. This absolutely deserved hardcover treatment. The art by Steve Pugh is necessary in this format to see the humorous details in the art that is a joy to spot. A must buy for fans and collectors!
I mean…It's N.K. Jemisin and Jamal Campbell! Their names alone should convince you to pick this up. N.K. Jemisin has a way of building her worlds in such unique ways, while asking us to question our own.  How can murder exist in a city where its citizens are empty of emotion? This is a city where emotion is feared, valued, capitalized, and used as a tool for power plays. Jo Mullein bares the weight of responsibility to make a change for a city that is divided. Each issue is punctuated by voices of Zora Neale Hurston, James Baldwin, Audre Lorde, and Octavia Butler to name a few. It asks us to consider the problems that Jo faces in direct reflection of our own reality.
---