Hilda's going through some interesting changes in the new feature-length episode Hilda and the Mountain King, streaming on Netflix on December 30th! Discover all of Hilda's adventures in her graphic novel series that explores her enchanting world—a place where trolls walk, crows speak, and mountains move. The magic and folklore of the wild, windswept North come alive in this series about an adventurous little girl and her habit of befriending anything, no matter how curious it might seem.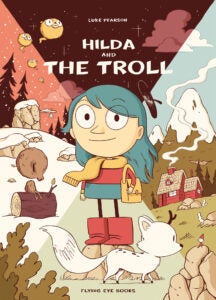 While on an expedition to illustrate the magical creatures of the mountains around her home, Hilda spots a mountain troll. As the blue-haired explorer sits and sketches, she slowly starts to nod off. By the time she wakes up, the troll has totally disappeared and, even worse, Hilda is lost in a snowstorm. On her way home, Hilda befriends a lonely wooden man, and narrowly avoids getting squashed by a lost giant.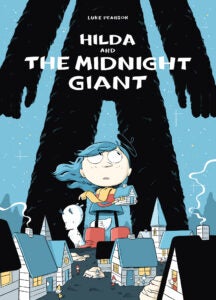 When creatures bombard Hilda's house with eviction notices, she has to think twice before making their acquaintance. Come to think of it, who is this giant who only appears at midnight, and why is Hilda the only person who can see him?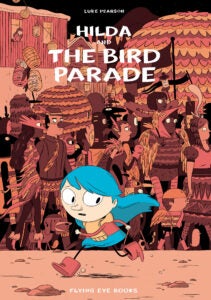 Hilda and her mother have finally laid roots down in their new home in Trolberg. Pining for her magical friends and wonder filled homeland, Hilda is finding it hard to fit in to this crowded new place. But today is somehow different, today Hilda sees a glimmer of the magic she left behind in the fjords.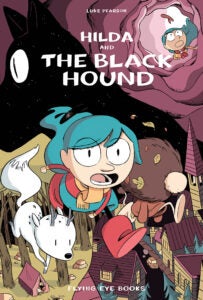 Hilda sits in her tent, dwarfed by volumes of the Greater Fjords Wildlife Chronicles with a flashlight and her restless companion Twig, but Hilda's not in the fjords and it isn't raining. Hilda's pitched a tent in her room and it's been days since she's been out.
In Hilda's new adventure, she meets the Nisse: a mischievous but charismatic bunch of misfits who occupy a world beside—but also somehow within—our own, and where the rules of physics don't quite match up. Meanwhile, on the streets of Trolberg, a dark specter looms…

Hilda may be grounded, but that won't stop her from heading off on another daring adventure! But everything is thrown off course when her mother catches her and is dragged along for the ride. Furious with each other, the bickering pair find themselves lost in the land of the trolls, forced to embark on a dangerous journey to make their way home. And to make matters even more difficult, Hilda has to do so . . . as a troll? Buckle your seatbelts for a crazy body-swapping adventure!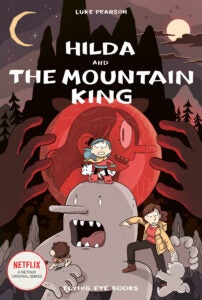 We rejoin our heroine for her latest adventure just as she awakes to find herself… in the body of a troll! Her mum is worried sick, and is perplexed by the strange creature that seems to have taken Hilda's place. Now, both of them are in a race to be reunited before Ahlberg and his safety patrol get the chance to use their new secret weapon to lay waste to the trolls, and Hilda along with them!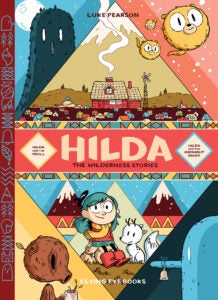 Explore the magic, folklore, and mystery of Hilda's world as she rides fluffy woffs through the sky, dodges trolls through the forests, and catches up with giants the size of mountains. With the help of her lovable deerfox friend Twig, the grumpy (but no less loveable) Wood Man, and with a backpack full of cucumber sandwiches, there's nothing to stop Hilda from exploring the wilds and getting into sticky situations…
---