Looking for the perfect gift for the comics fan in your life? Check out our recommendations for graphic novels, manga, & gifts for any age!
Kids & Young Adults

Recommended Ages 6-9
The #1 bestselling chapter book is now a graphic novel! Magic. Mystery. Time-travel. Get whisked back in time in the magic tree house with Jack and Annie in this giftable boxed set!
Recommended Ages 7-10
There's a new dog in town! Finally Greenwood gets the mayor they've been waiting for–Mayor Good Boy! In this graphic novel, a very good dog is going to save his town, one hilarious try at a time.
Recommended Ages 8-12
A graphic novel adaptation of the beloved, bestselling Newbery Honor-winning novel. Inspired by family stories, three-time Newbery Honor winner Jennifer L. Holm blends family lore with America's past in this charming gem of a novel, now adapted into graphic novel form by rising star Savanna Ganucheau.
Recommended Ages 8-12
The first ever graphic novel in the New York Times bestselling The Last Kids on Earth series—now with over 7 million copies in print! • A Netflix Original series • These SIX brand-new, full-color comics feature thrilling stories from the Last Kids crew—and finally reveal the mysterious whereabouts of two villainous villains to prep readers for the 7th book in the series coming Fall 2021!
Recommended Ages 10-14
When a jealous witch curses her family's well, it's up to Vonceil to set things right in an epic journey that will leave her changed forever. Hope Larson is the author and illustrator of the Eisner Award nominated All Summer Long and the illustrator of the Eisner Award winning A Wrinkle in Time: The Graphic Novel. Salt Magic is an utterly unique graphic fairy tale complete with striking illustrations by Rebecca Mock.
Recommended Ages 13 and up
New York Times bestselling author of The DUFF Kody Keplinger and artist Sara Kipin reimagine an iconic DC antihero with a gothic-horror twist.
Recommended Ages 14 and up
Can you be a hero…if society doesn't see you as a person? From the witty and powerful voice behind A Blade So Black, and with endearing and expressive art by Robyn Smith, comes a vital story for today about equality, identity, and kicking it with your squad.
Graphic Novels for Adults
NATIONAL BESTSELLER • Scandalous gossip, wild https://prhcomics.com/wp/book/?isbn=9780593160299parties, and forbidden love—witness what the gods do after dark in this stylish and contemporary reimagining of one of the best-known stories in Greek mythology from creator Rachel Smythe.
The first Umbrella Academy spin off series! Umbrella Academy creators Gerard Way and Gabriel Bá are joined by Way's Killjoys cowriter Shaun Simon (Collapser, Electric Century) and artist INJ Culbard (Everything, At the Mountains of Madness), for a supernatural adventure featuring the breakout character from the hit Netflix show, which returns for a second season in 2020!
The paperback boxed set of the Pulitzer Prize-winning graphic novel in its original two-volume format, re-released to include a sixteen-page booklet designed by the artist. Acclaimed as "the most affecting and successful narrative ever done about the Holocaust" (Wall Street Journal), Maus is considered "the first masterpiece in comic book history" (The New Yorker).

The New York Times bestselling graphic memoir from actor/author/activist George Takei returns in a deluxe hardcover edition with bonus material! Experience the forces that shaped an American icon — and America itself — in this gripping tale of courage, country, loyalty, and love.
Can the World's Greatest Detective solve the mystery of Zero Point and escape the battle royale world of FORTNITE? Includes a bonus code unlocking seven DC-themed Fortnite digital items.
Matt Fraction and David Aja's complete, acclaimed run in a single sharpshooting volume! With Young Avenger Kate Bishop by his side, Clint Barton continues his fight for justice — and good rooftop BBQs!
Written by Kurt Busiek and masterfully illustrated by Alex Ross, Marvels presents a richly painted historical overview of the entire Marvel Universe, spanning from the 1939 debut of the Human Torch to the fearsome coming of the world-devouring Galactus–and culminating in the shocking death of Gwen Stacy, Spider-Man's first love.
Manga
It's never been easier to attack Attack on Titan than with these new, giant-sized 3-in-1 omnibus editions! If you've been waiting for the final anime season to check out the do-or-die shonen adventure that defined a decade, now's your chance. These new books tuck almost 600 pages of manga behind a specially-embossed cover, all in a larger size than the regular version. Includes Vol. 1-3 of Attack on Titan.
The blockbuster action manga that inspired the epic anime stampedes towards its thrilling conclusion! Final volume!
The critically acclaimed romantic comedy about a country girl chasing her dreams in Tokyo! Anime adaptation has been announced!
Also known as MDZS, the blockbuster danmei/Boys' Love novels from China that inspired comics, animation, and the live-action series The Untamed–which amassed billions of views, including on Netflix! This historical fantasy tale of two powerful men who find each other through life and death is now in English, for the very first time.
The blockbuster danmei/Boys' Love novels from China that inspired the animated Scumbag System series streaming in English! This hilarious story of a man reborn as a villain in a fantasy novel series who ends up romancing the male protagonist is now in English, for the very first time.

The blockbuster danmei/Boys' Love novels from China that inspired the animated series! This epic historical fantasy about a prince and the mysterious man by his side is now in English, for the very first time.
A geeky girl whose life revolves around yaoi manga and a quiet gamer boy are old friends, but when they start working in the same office, they decide to date. It's a relationship of convenience at first, but could it become something more? This manga comedy is now a hit streaming anime!
A transgender teen named Ryo finds an escape from the expectations and anxieties of his daily life in the world of street fashion. This personal, heartfelt, fictional story from a transgender manga creator made waves in Japan and will inspire readers all over the world!
Before Sailor Moon, there was Sailor V! Minako Aino is 13 years old when she meets a talking white cat named Artemis, who tells her something unbelievable: With a magic pen, she has the power to transform into the elegant, masked hero Sailor V. Experience Minako's adventures, before she became Sailor Venus, featuring a new, glittering cover, a fresh translation, and remastered interior art!
Gifts
Academy Award-winning screenwriter John Ridley (12 Years a Slave, Let It Fall) examines the mythology of the DC Universe in this compelling new graphic novel! Reframing iconic moments of DC history and charting a previously unexplored sociopolitical thread as seen through the prism of DC Super Heroes who come from historically disenfranchised groups, John Ridley goes where no other has gone before!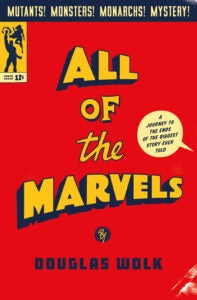 The first-ever full reckoning with Marvel Comics' interconnected, half-million-page story, a revelatory guide to the "epic of epics"—and to the past sixty years of American culture—from a beloved authority on the subject who read all 27,000+ Marvel superhero comics and lived to tell the tale
A premium, lavishly illustrated compendium of specially curated essays, boasting stunning, newly commissioned maps, illustrations, and diagrams, which explores iconic Marvel locations.
By the Power of Grayskull! The war for Eternia begins again in 2021! Officially licensed by Mattel, this stunning guide is a visual celebration of Masters of the Universe's enduring legacy, including artworks, sketches, posters and merchandise from the official archives.
NATIONAL BESTSELLER • A mysterious former Sith wanders the galaxy in this stunning Star Wars tale, an original novel inspired by the world of The Duel from the Star Wars Visions animated anthology.
(Also Available: Dungeons & Dragons Art & Arcana)
A deluxe, special edition package containing art prints, ephemera, and the illustrated guide to the history and evolution of the beloved role-playing game as told through the paintings, sketches, and illustrations behind its creation, growth, and continued popularity.

Explore the past of Critical Role's daring half-elf twins, Vex'ahlia and Vax'ildan, in this original prequel novel to their adventures with Vox Machina.
NEW YORK TIMES BESTSELLER • Dive deep into the history of the world's most popular fantasy RPG livestream with the cast of Critical Role in this definitive guide featuring never-before-seen illustrations and photos.