Ah, cats! Our feline friends have featured in all sorts of books and comics over the years, and one place they really shine is in manga. Whether you're looking for clever cats, spooky cats, cats that have jobs (I'd love it if my cat could pay his share of rent!), cats that need help, or cats that help us, we've got it all! Check out my top picks, along with the full list of titles below!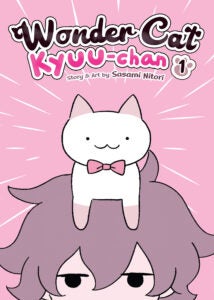 Wonder Cat Kyuu-chan
This series is just a shot of pure serotonin—kind, funny, sweet, and absolutely adorable! Hinata rescues Kyuu-chan and the pair quickly become best buds, but Kyuu-chan doesn't really act like a normal cat. He likes to help Hinata with chores, knows how to take the train, and he really loves wearing a bowtie. This delightful slice-of-life series is in full color (a rare treat in manga!) and will certainly leave you smiling.
I Am a Cat Barista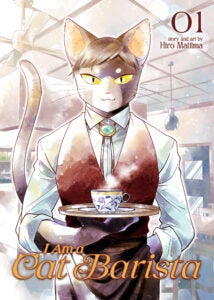 I pretty much can't function without coffee every day. The only thing better than a freshly brewed cup would be if that coffee was served to me by a cat barista! Toe beans and coffee beans join forces in this supernatural spin on the classic cat cafe.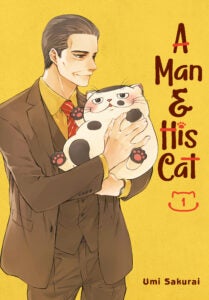 A Man and His Cat
Get the tissues ready for this one! A kitten sits all alone at the pet shop, unwanted by the passing humans who think he's too ugly. But then one day, a kind older gentleman who lives alone takes him home, names him Fukumaru, and gives him all the love he's been missing out on. These two bring so much unexpected joy to each others' lives!
The Masterful Cat is Depressed Again Today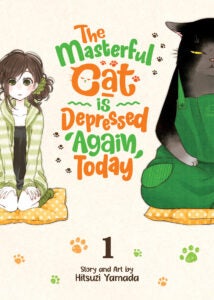 Saku is a hardworking young woman who lives alone with her cat. Totally normal life….except that her cat Yukichi walks on two legs, towers over her, does all the housework, goes grocery shopping (and always has a good coupon), and pretty much takes care of the hapless Saku! He might have a grumpy attitude, but this cat is better at being a well-adjusted adult than she is!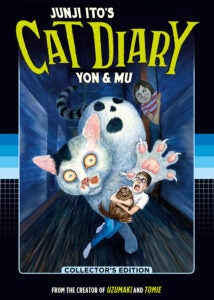 Junji Ito's Cat Diary: Yon & Mu Collector's Edition
We all know cats are cute, but they can also be downright creepy! Master of horror Junji Ito shakes things up a bit with a hilarious memoir about becoming a new cat owner. When his fiancée moves in with two cats, J-kun (Junji Ito) is determined to gain their affection, whether they want it or not!
---