The highly anticipated Lore Olympus: Volume One graphic novel is now available in comic stores! Experience the whirlwind romance of Persephone and Hades as they navigate the gossip and scandals of an Olympus unlike anything you've seen before. Get a sneak peek at Rachel Smythe's incredible first volume below, and don't miss out on pre-ordering the second volume!
---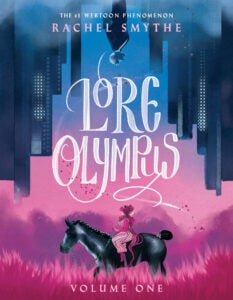 Persephone, young goddess of spring, is new to Olympus. Her mother, Demeter, has raised her in the mortal realm, but after Persephone promises to train as a sacred virgin, she's allowed to live in the fast-moving, glamorous world of the gods. When her roommate, Artemis, takes her to a party, her entire life changes: she ends up meeting Hades and feels an immediate spark with the charming yet misunderstood ruler of the Underworld. Now Persephone must navigate the confusing politics and relationships that rule Olympus, while also figuring out her own place—and her own power.
This full-color edition of Smythe's original Eisner-nominated webcomic Lore Olympus features a brand-new, exclusive short story, and brings Greek mythology into the modern age in a sharply perceptive and romantic graphic novel.
This volume collects episodes 1–25 of the #1 WEBTOON comic Lore Olympus.
"What Scott Pilgrim did for Canadian slackers, Lore Olympus does for the Greek pantheon, while being so beautiful that you know Aphrodite is just staring daggers in its direction."—Kieron Gillen, co-creator of The Wicked + The Divine
---